Diamond Certification
What is a diamond certification done by an independent specialized laboratory?
Although it's not the only world renowned laboratory, the Gemological Institute of America (GIA), established in 1931, is the world-class authority on diamonds and colored stones. Its work includes research and education in the field of gemology.

One of the GIA's more significant services is provided by its GIA Laboratory which provides diamond grading services to describe the characteristics of loose diamonds. This information is issued by the GIA as the GIA Diamond Grading Report.
The GIA Diamond Grading Report (see copy below), issued for diamonds weighing 0.20 carats or more, provides a full quality assessment of a diamond and contains the following data:
Date (of report)
Report Number
Laser Inscription Registry (if requested)
Shape and Cutting Style
Measurements
Color Grade
Clarity Guide
Finish (quality of surface condition as well as information of the facets)
Polish (general condition of surface)
Symmetry (exactness of diamond's outline)
Fluorescence (strength and color of diamond)
Plotting Diagram (approximates shape and cutting style of stone)
Key to Symbols, GIA Clarity Scale, GIA Color Diamond Scale, Proportion Diagram, and Security Features (of report to ensure authenticity). As an optional service, a full color image of the diamond may also be included.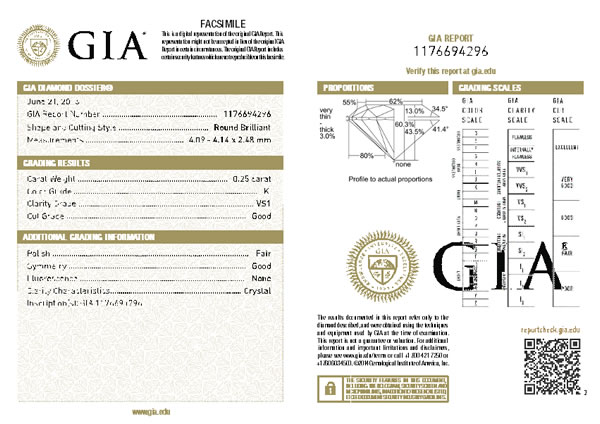 IGI
Founded in Antwerp in 1975 IGI is the largest organization of its kind in the world with offices and gem labs in Antwerp, New York, Hong Kong, Mumbai, Bangkok, Tokyo, Dubai, Tel Aviv, Toronto, Los Angeles, Calcutta, New Delhi, Thrissur, Jaipur, Surat, Chennai, Ahmedabad and Hyderabad.
It was the first lab in the world in sealing its diamonds for security reasons. In addition they patented the IGI Laserscribe System Mark which is used to inscribe identification data on the stone using a laser beam. Also it was one of the first labs able to identify treated natural diamonds and synthetic diamonds.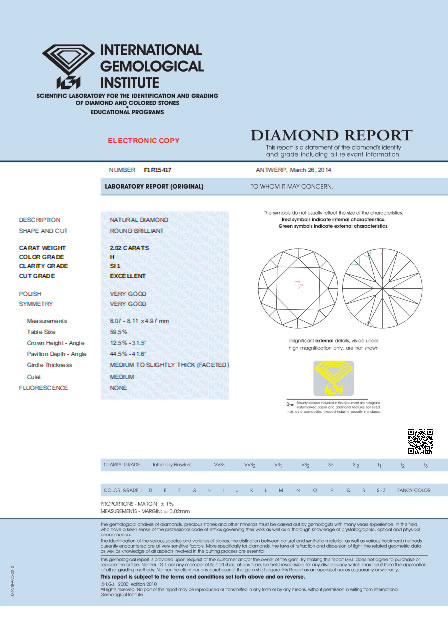 EGL USA
For over three decades EGL USA has portrayed state-of-the-art research lines in the gemological field in the USA with a distinguished balance between science and services. Its head office is located in the heart of the diamond district in New York and it has also an office in the west coast, in Los Angeles.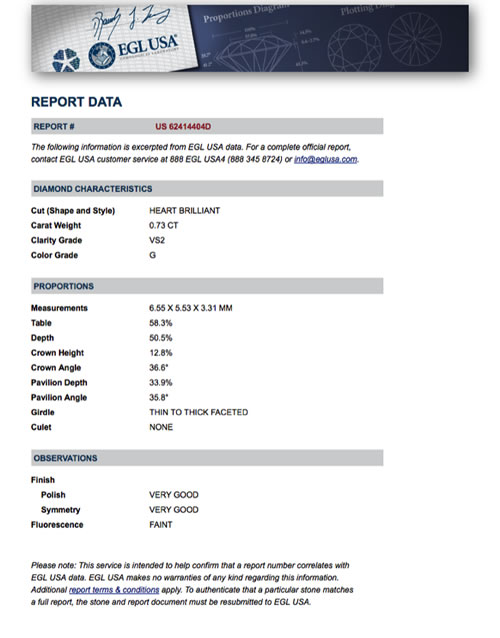 HRD
This prestigious lab is owned by the Antwerp World Diamond Centre (AWDC) which represents the belgian diamond industry. It's been approved by the World Federation of Diamond Bourses (WFDB) and the International Diamond Manufacturers Association (IDMA) the world's two most eminent industry leaders.
Why Antwerp? Since 1447 it's been synonym with diamonds with the oldest set of rules record to commercialize goods, said document establishes that "no one within the city of Antwerp is to buy, sell, pawn or pass on any false stones imitating diamonds, rubies, emeralds and sapphires..." Antwerp has been a diamond center for centuries. The world's first stock exchange was founded there, trading everything from copper and silver to diamonds and gold.